Gypsy Journal
Welcome to our Gypsy Journal. Welcome to our Gypsy Journal. Whenever we pick up our cameras and pack up our tripods we feel like we are headed on a mini-adventure. Sometimes we venture out alone. Sometimes we head to a city or scenic area far away from home, but often the Gypsy Chicks explore the parks, nature preserves and events nearby. We like to keep a journal to preserve some these mini-adventures and our web site gives us the opportunity to share them with you.

Shooting the Moon
Last summer the Gypsy Chicks enjoyed another wonderful workshop at The Clearing (see link page for more info). Before we set out for our week at the tip of Door County, Wisconsin and the Digital Photography workshop, Heidi did a little checking on the web and found that there would be a full moon on Wednesday night. We had a plan, shoot the moon as it came up over the water.

If you look at a map of Door County you will notice that the peninsula juts out into Lake Michigan and Green Bay at an angle. On Sunday night we took note of the sunrise and sunset attempting to figure out what time and where that full moon would break the horizon over the water. The Clearing is located on the Green Bay side of the peninsula – the sunset side - so we needed to find a location with a good view of the water on the Lake Michigan side. Easy, right?

After some discussion with others who knew Door County better than we did the consensus was that the best place to shoot the full moon would be at the tip of the peninsula at Gill's Rock. On Monday Heidi, Nancy Brown, another photographer, and I packed up our tripods and headed out just before sunset. As soon as we reached the highway we knew that angle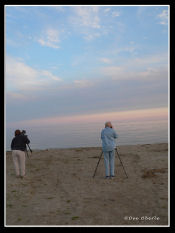 had thrown everyone off. There was that big ball of a moon on the horizon off to our right somewhere near Bailey's Harbor and at least an hour earlier than we had planned. Heidi made a quick right turn and navigated the back roads to Bailey's Harbor in record time.

Shooting in the dark is a challenge, especially for film photographers. Since this was a digital class we also used the opportunity to test our digital camera's "night scenery" mode. We managed to get a few shots while the moon was still low enough to keep it in our frame. Not bad, but not exactly the vision we had in our minds. Luckily we had two more nights to try again.


Now we had a plan. The next night we headed out early, well before sunset and stationed ourselves on the Ridges beach. We no sooner got our cameras on the tripods and Heidi said, "Look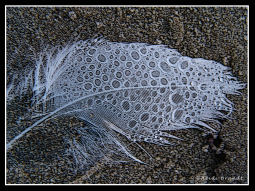 behind you!" The sunset sky about the trees was spectacular and we began to question our decision, especially since there was no moon in sight. We messed around shooting the sky, beach grass and a feather lying in the sand. Finally, someone shouted, "Look, there it is!" Shutters started clicking trying to capture that incredible big ball of a moon rising above the water and sending out shimmering rays all the way back to shore. Our patience and persistence had paid off.


The next morning at breakfast we excitedly shared the story and our location of our moon-shoot with the rest of the photographers. After all, the next night, was suppose to be the official full moon so they still had an opportunity to get that perfect shot. Some did make the attempt but came back disappointed. Clouds had moved in during the day and there was no moon in sight. We tried hard not to gloat but couldn't resist putting one of our full moon images in the final student slide show. The Oh's and Ah's as it moved slowly across the screen said it all.



Gypsy Photography Tip:
Location, Location, Location! Sunset, sunrise and moon shots can be spectacular images but you have to be set up and ready before anything happens. Do your homework and scout out the territory ahead of time. If possible plan on at least two days. Clouds can add to the spectacle or completely cover up the view.
Low light photography, even with a digital requires a tripod. You can use your timer on your digital but will need a cable release for film. Read you camera manual and anything else you can on shooting in low light before you go. A camper's headlight is also a handy addition to your camera bag. You might look a little strange carrying all that gear with a light on your head, but you will be able to see your camera's settings and if you drop your cable release you won't have to crawl around in the dark looking for it.
.